Summary
- Myanmar 1764 project, aims to restore a degraded mangrove ecosystem in the northern part of Ayeyarwady Division of Myanmar.
- Without carbon finance, carbon stocks in the project area will continue to decrease due to various anthropogenic activities.
- The project will help the coastal communities to address issues including natural disaster risk reduction, biodiversity improvement and poverty reduction with sustainable livelihoods.
- Myanmar 1764 project follows the 'Afforestation and reforestation of degraded mangrove habitats (AR-AM0014)' methodology and is registered with Verra project ID 1764.
- Solid World is offering 1000 forward credits each for 2022 to 2023, and 2000 forward credits for each year from 2024 to 2027 from the project.
- Solid World issues tokenized pre-paid forward carbon credits to help fund climate projects. We guarantee delivery of these credits and provide flexibility in their ownership. Along with the guaranteed delivery the credits offered also hold top priority of delivery. We also offer off-chain redemption.
Documents
CRISP_ Myanmar_1764
Cover_Page_Myanmar_1764
Tokenization_Terms_Myanmar_1764
Project Overview
Our collaboration with Vlinder, and Mangrove DAO is helping to restore mangrove forests in Myanmar's Ayeyarwaddy Region. This is a long-standing project that is largely responsible for the growing interest in Mangrove restoration over the past decade. It is also the first climate initiative where the innovations of the crypto space have made a lasting impact.
The project is formally titled "Reforestation and Restoration of Degraded Mangrove Lands, Sustainable Livelihood and Community Development in Myanmar," but most people simply know it as its Verra registry ID - "1764". This initiative began in the early 21st century when the foundation recognized the importance of mangroves as powerful carbon sinks.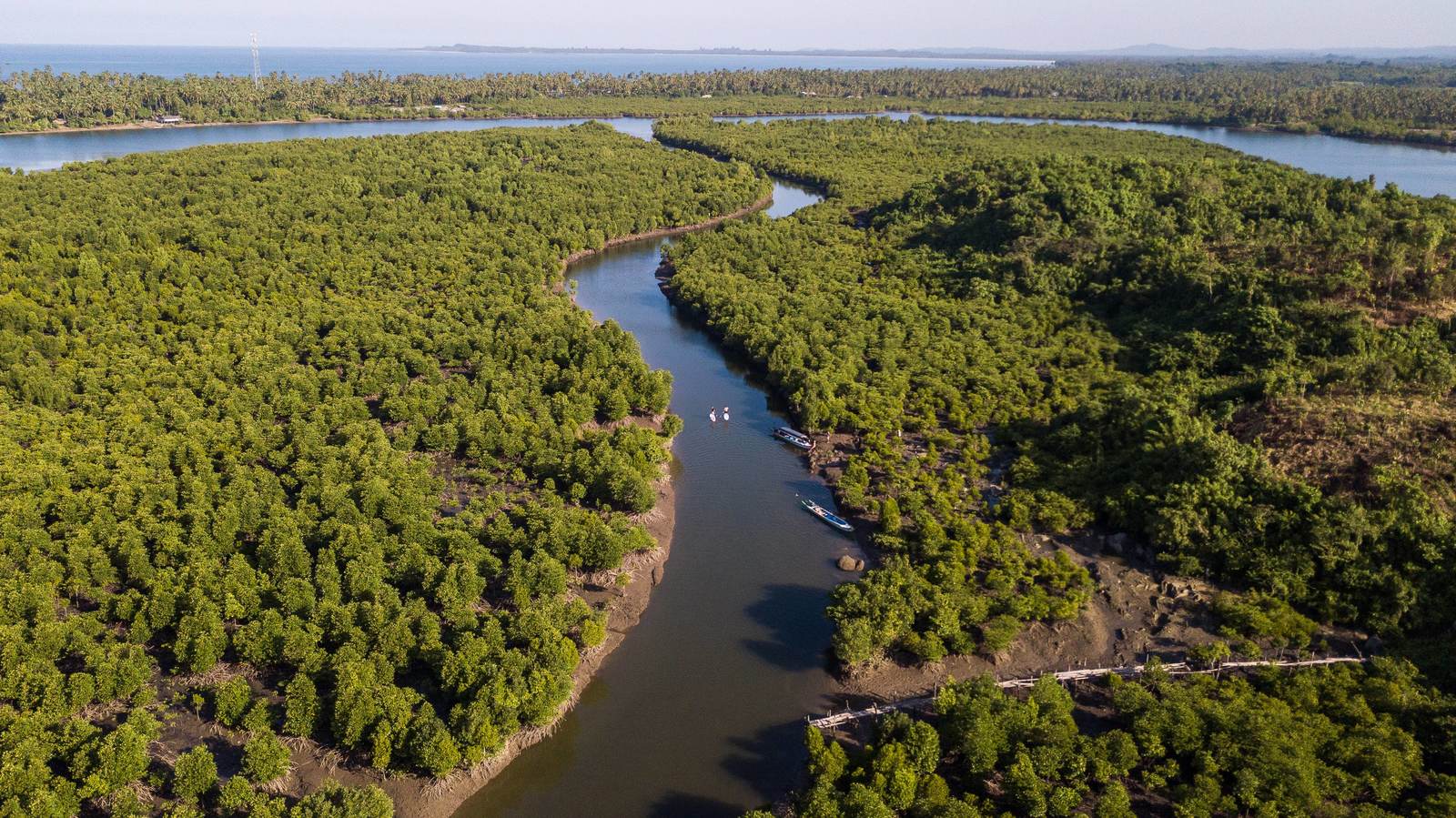 Thor Heyerdahl Climate Park
1764 is the first of several Mangrove Restoration projects initiated in the Ayeyarwaddy Region. The reforestation and restoration efforts are spread across three villages. Of special note is the Thor Heyerdahl Climate Park, which is one of the regions included in the project. Reforestation in this specific area started already in 2012 and provided a comprehensive research basis on Mangrove Restoration efforts in collaboration with Pathein University, Myeik University, and laboratory support from Yangon University. Thor Heyerdahl Climate Park now serves as the spiritual ancestor to all modern Mangrove Restoration initiatives due to its pioneering impact on the space.
The project sparked global interest in mangrove restoration. The method used by the project proponents demonstrated how a low-cost, community-driven approach could result in large-scale mangrove restoration. The success of this initiative placed the 1764 project in the limelight, making it a global ambassador for the preservation and restoration of mangrove ecosystems. This project has since been replicated in various other parts of the world, highlighting the power of grassroots initiatives in environmental restoration.
Source -
https://en.wikipedia.org/wiki/Thor_Heyerdahl_Climate_Park
Beneficiaries and Sustainable Livelihoods
The planting for the 1764 project started in 2015 based on the success of the Thor Heyerdahl Climate Park in 2012, which demonstrated the potential of Mangrove Restoration as a means to effectively combat climate change.
Not only is this project tied into the history of an entire class of carbon projects, and it has contributed significantly to the fight against climate change on its own - it has also provided significant benefits to the local communities which surround the area.
In the Ayeyarwady region where the 1764 project is located, the foundation has been instrumental in reducing poverty and improving opportunities, impacting approximately 2,482 households, equating to a population of 10,896 across16 targeted villages in the project's three village regions.
Source -
https://wif.foundation/ongoing-projects
Impacts on the Carbon Markets
The restoration of mangroves is not only an environmental victory but also a significant development in carbon markets. Given that mangroves absorb up to four times more carbon dioxide per hectare compared to tropical rainforests, they play a critical role in the carbon offset market.
Source -
https://www.sciencedaily.com/releases/2011/04/110404173247.htm
This successful mangrove restoration project served as a proof-of-concept for these ecosystems' immense carbon sequestration potential. Consequently, carbon removal credits derived from mangrove restoration have started to gain traction in the global carbon market.
Investors and corporations seeking to offset their carbon footprints are now more aware of and interested in mangrove restoration. As a result, carbon credits from mangrove projects have increased in both demand and value. This has stimulated growth in the carbon market, driving further investments into mangrove projects specifically.
This project, through its focus on mangrove restoration, has successfully bridged the gap between environmental restoration and carbon markets. Its work demonstrates the potential of community-led, large-scale restoration projects in mitigating climate change and driving market-based solutions.
Treecoin & Mangrove DAO
In 2017, the 1764 project was the recipient of a crowdfunding initiative called Treecoin that helped raise funds for their mangrove restoration efforts. Each of the 1,622,750 TREE coins was a commitment to plant and care for a mangrove tree in the Thor Heyerdahl Climate Park area of the 1764 project. TREE coins also gave the holders a share of the carbon rights and revenues generated by that three.
Later in 2022, Mangrove DAO was created as a governance mechanism, offering a platform for the TREE Coin community to participate actively in key decisions concerning the project's future and carbon credit allocation. The collaborative ethos of Mangrove DAO marks a paradigm shift in climate action, leveraging the principles of decentralization, transparency, and collective decision-making inherent to blockchain technology. As part of Solid World's launch, MangroveDAO voted to allocate a portion of their upcoming carbon yield to Solid World's system - giving us a platform to share the glorious history of 1764 and the impact it has made on the world.
Source -
https://medium.com/@mangrovedao/tree-coin-story-2bce6723d496
Technical Overview
The Myanmar 1764 project follows AR-AM0014 methodology and is registered in the VCS registry. The project has shown additionality using alternative land use scenarios, barrier analysis and common practice analysis. Without carbon finance, the baseline scenario of degraded mangroves and abandoned lands will continue.
The project will plant native mangrove species and it will sequestrate an estimated 3.7 million tCO2e over a period of 2015-2035. The project will address issues including natural disaster risk reduction, biodiversity improvement and poverty reduction with sustainable livelihoods in the coastal communities, apart from the carbon sequestration.
Project Status
Analysis using CRISP
Note:
We have not rated 2022 vintage for this project.
The graph above illustrates the application of the CRISP rating system to the Myanmar 1764 project. For each projected year (2023 to 2027), ratings from D to AAA are assigned, denoting varying levels of risk for non-delivery of forward carbon credit units. Lower net risk scores signify higher non-delivery risk, while higher scores indicate lower risk. The CRISP-M credits, prioritized within the AAA to A range, substantially mitigate non-delivery risk. The "Offered through Solid World" marker on the graph indicates that the CRISP-M pool includes 1000 forward credits each for 2022 to 2023, and 2000 forward credits for each year from 2024 to 2027.
The net score is calculated as the sum of weightages of CRISP risk factors: Carbon yield risk weightage (max 60), Climate catastrophe risk weightage (max 10), Policy and legal risk weightage (max 15), Vintage's Net financial risk weightage (max 10), and Project developer risk weightage (max 5).
The table below illustrates the contribution of each CRISP risk factor to the net score for the vintages "Offered through Solid World" from 2023 to 2027.
Contracts
Solid World takes pride in its commitment to transparency and market standardization. To achieve this, we make all legal contracts signed with our suppliers publicly available. By doing so, we aim to bring much-needed transparency to the market and establish a standardized approach for carbon credit transactions.
Main Terms:
1-1 Backing:
Each token issued by Solid World is backed by a prepaid forward carbon credit. This ensures that every token represents an exact amount of carbon reduction or sequestration, providing clarity and accountability in the market.
Guaranteed Delivery:
Every forward carbon credit within our platform comes with a guarantee of delivery. In the event of any unforeseen circumstances affecting the project's ability to fulfill its carbon credit commitments, the supplier is obligated to either repurchase their position or provide replacement credits. This guarantee safeguards the interests of buyers and maintains the integrity of the carbon credit market. Along with the guaranteed delivery the credits offered also hold top priority of delivery.
Ownership and Transfer:
Buyers have the opportunity to purchase forward carbon credit tokens, which grants them ownership of these credits. As token holders, buyers have the ability to hold, trade, or transfer their ownership rights according to their preferences.
Off-Chain Redemption:
Buyers with registry accounts can request the transfer of project forward carbon credits off-chain. To initiate this process, buyers can contact Solid World at
[email protected]
. Upon receiving the request, Solid World facilitates the transfer by burning the project tokens and notifying the supplier of the contract transfer. Following the transfer, the counterparty for the buyer becomes the supplier, ensuring a seamless off-chain ownership experience.
By adhering to these clear terms and providing public access to legal contracts, Solid World establishes trust, standardizes market practices, and promotes transparency within the carbon credit industry.